---
The methyl bromide elimination project evaluation meeting and alternative technology seminar were held in Beijing, and Nantong Shizhuang "Longxin Mianlong" attracted much attention.
---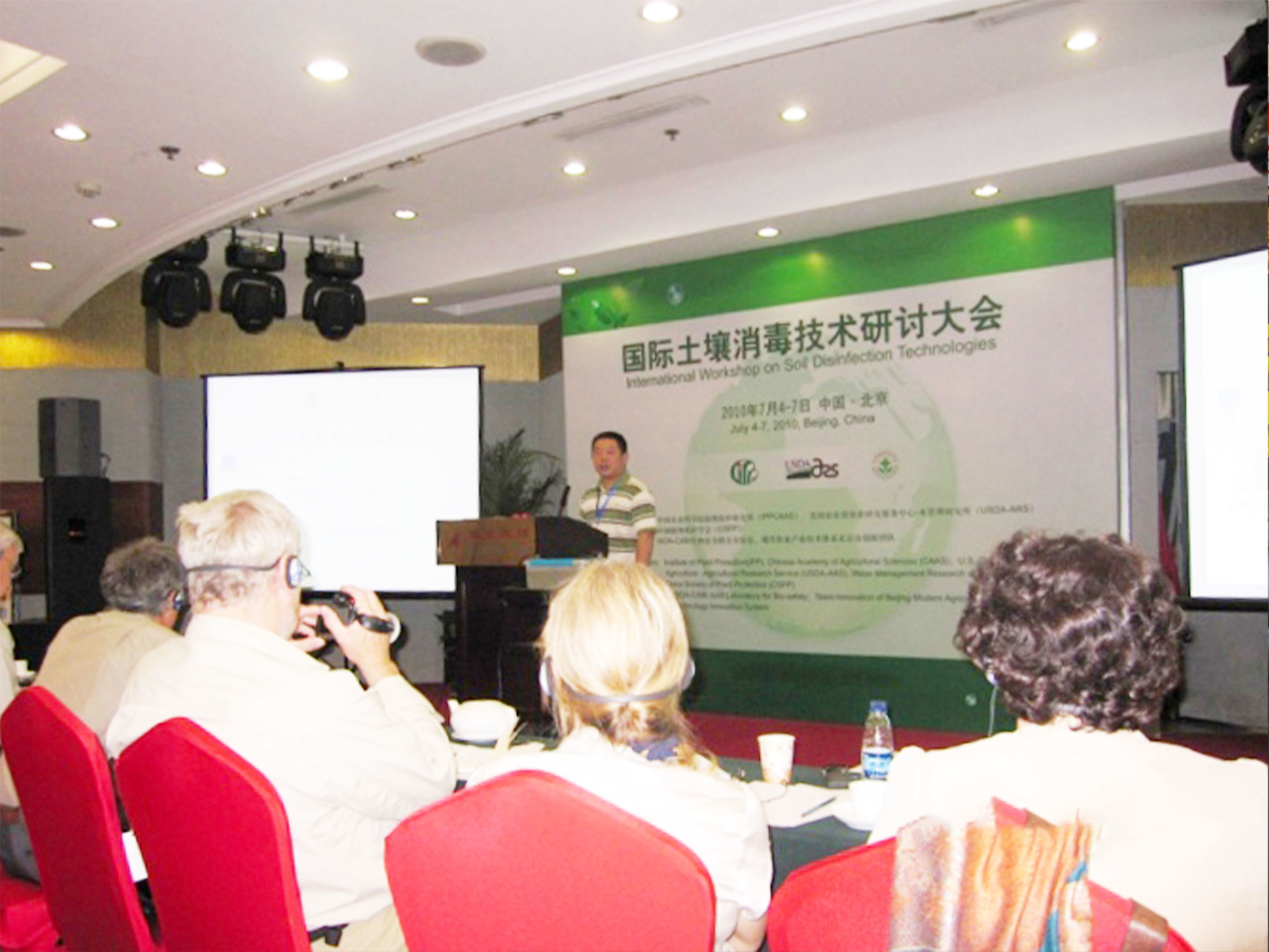 The evaluation meeting of methyl bromide phase out projects in the agricultural industry and the seminar on alternative technologies were held in Beijing on May 27. Fang Fang, deputy director of the Resources and Environment Division of the Department of Science, Technology and Education of the Ministry of Agriculture, and deputy director of the "methyl bromide phase out in the agricultural industry" project office chaired the meeting.
Andy, a project officer of the United Nations Industrial Development Organization (UNIDO) Representative Office in China, and Wu Kongming, director of the Plant Protection Institute of the Chinese Academy of Agricultural Sciences, were invited to attend the meeting and delivered a speech.
Tang Yandong, Deputy Director of the Third Division of the Foreign Trade Office of the Ministry of Environmental Protection, made a special report on Ozone Protection and Methyl Bromide Elimination at the meeting; Wang Guiling, Executive Deputy Director of the Project Office, made the 2008 Project Progress Report.
At the meeting, Cao Aocheng, researcher of the Plant Protection Institute of the Chinese Academy of Agricultural Sciences, Wang Dianxuan, professor of Henan University of Technology, Li Xihong, senior agronomist of the China Tobacco Burley Test Station, Li Changsong, director of the Plant Protection Institute of the Shandong Academy of Agricultural Sciences, Gu Jun, director of the Donggang Strawberry Research Institute, and other experts made special speeches on agricultural methyl bromide replacement technology and other issues.
More than 50 participants also fully discussed the project progress discussion and evaluation in 2008 and the implementation strategy of methyl bromide phase out projects in the agricultural industry.
CCTV, the news media, attended the meeting and conducted a live news interview.
During the meeting, Zhao Hongming, assistant general manager of Nantong Shizhuang Chemical Co., Ltd., communicated with the guests on the use of Mianlong technology, which attracted great attention from the participants.
Gu Jun, executive director of Strawberry Branch of Chinese Horticultural Society, expert of national special allowance, and director of Donggang Strawberry Research Institute, focused on strawberry planting technology and the use of methyl bromide as a substitute for cotton root as soil disinfection on strawberries. Liaoning is the old strawberry production area and the largest strawberry production base in China, and continuous cropping makes soil borne diseases very serious. In 2002, a test was conducted to replace cotton root, The results showed that the effect of Mianlong was similar to that of methyl bromide, but also had the effect of fertilizer. Donggang has 2000 hectares of protected land, of which the area of Mianlong used exceeded 1300 hectares, with an increase of 14-20 tons of strawberries, an increase of economic benefits of 80000-12000 yuan, and a total of 30000 to 40000 tons of high-quality strawberries in six years, increasing social benefits of more than 400 million yuan Due to the remarkable effect of using Mianlong for soil disinfection, Hangzhou Municipal Government of Zhejiang Province has made government procurement for many years. This year, Liaoning Plant Protection Station, Shandong Plant Protection Station, Hebei Agricultural Environmental Protection Station and Shanghai Municipal Commission of Agriculture also participated in government procurement. Mianlong, as a substitute for methyl bromide, has been fully affirmed by the United Nations Project Office, and everyone is unanimously optimistic about the market prospects of Mianlong.
Information link:
In recent years, due to the rapid expansion of the planting area of high efficient cash crops such as greenhouse vegetables, tobacco, watermelon, flowers, and Chinese herbal medicine, while the area of arable soil is decreasing day by day, in addition to the acceleration of the industrialization process of characteristic agriculture in various regions, the occurrence and harm of various soil borne diseases and underground pests, especially parasitic nematodes, caused by continuous cropping of soil are increasing year by year, which has seriously affected agricultural production The quality of products and the increase of farmers' income. At present, there are many kinds of soil insecticides and bactericides used, but the use effect is general, and the control scope is single. Looking for a kind of soil disinfectant that can kill both bacteria and insects, kill nematodes and prevent weeds has become a desire of people.
Longxin Mianlong is developed and produced by Nantong Shizhuang Chemical Co., Ltd. It can kill nematodes, underground pests, (real and fine) bacteria, weeds and other multiple effects after being applied into the soil. Its action spectrum is very wide, almost equivalent to steam sterilization, and there is no residue in the soil.
Product features:
1. It has a wide spectrum of effects and is completely disinfected. It has an amazing killing effect on soil borne organisms such as weeds, soil fungi and bacterial diseases, especially nematodes.
2. It is simple and convenient to use, and does not require complex application equipment. Just wait for a certain time after mixing the agent particles with the soil or matrix, and cover the surface of the matrix with plastic film.
3. The disinfection effect lasts for a long time, which can not only ensure the effectiveness of the current crop, but also increase the yield of subsequent crops to varying degrees, especially suitable for continuous cropping soil.
4. It is safe and environmentally friendly. After fumigation, the active ingredient is completely decomposed without residue, and the final product of its degradation is nitrogen. Greenhouses and fields can be used.